People expose to vibration which can interfere with comfort, health and safety; machines expose to inherent vibration which can reduce the working efficiency, damage the bearing parts, generate structural-born noise, also, this is necessary to consider the energy consumption in term of vibration.

To solve the vibration problem, the most important step is to identify the source. This is a thankless task to find out vibration source by eye and ear estimation. Experienced plant engineers have been able to recognise the vibration by touch and hearing, but it is time consuming and not the way in some cases. Moreover the detail of the vibration like, vibration frequency, amplitude and transmission path never can be detected by this method.

Vibration from machines operation, such as lift system and chillier plant, may be transmitted indoors through building structure at points where the machine is rigidly fixed to the structure without proper isolation. The vibration transmitted may activate the building structure to generate noise which causes noise disturbance to noise sensitive receiver inside the building.

Our company has extensive practical experience in solving a wide variety of complex noise and vibration problems. For the complete series of anti- vibration and noise service ranging from noise survey, vibration measurement, vibration source identification, treatment design, installation, and after work test.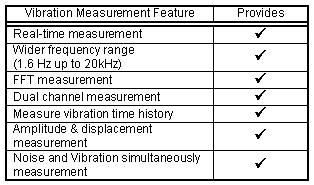 Multi-tasking
To investigate the vibration characteristic, our company provides field and laboratory vibration measurement services. We have a portable real time frequency analyser, which fulfils the requirement listed in the international standard, both IEC and ISO.
Job Reference
1. The Hong Kong Polytechnic University
Vibration Measurement and Ground Vibration Propagation Study at Kowloon Tong.

2. Zemac Engineering Co., Ltd.
Vibration Measurement at KCRC HA site 5 Service Apartment Tower I, Hung Hom.